Invest in Real Estate
---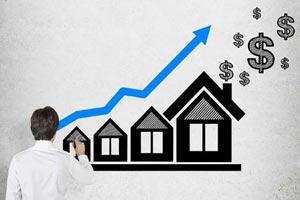 Start the process right by getting preapproved first. Learn about the possibilities and your limits before you go out in the market and make investments.
We provide multiple online tools that help real estate investors in Las Vegas you close your loans easier, faster, and keep things tidy for reference.Get in touch with us to find a reliable partner. We help real estate investors make smart decisions, save their money while making great investments. Whether you've done this before or it's going to be your first purchase, we can guide you through the process. Contact us to find the best mortgage options you need.
---
Most Popular Real Estate Investment Mortgage Plans You Can Choose From:
30-Year Loan - These loans come with fixed rates that don't change till the very end. With current mortgage rates in the market, you'll enjoy the lowest rates we've seen for a while for 30 years.
15-Year Loan - If you are confident that you can pay off your loan faster, sign up for a 15-year plan. Thanks to a shorter payoff period, you can avoid paying too much in interest. Basically, this is the same 30-year mortgage plan, but with a shorter commitment.
Can't decide which option is better? Don't stress, contact our Mortgage experts  and we'll look into your borrowing ability together with you.
---
Frequently Asked Questions
How to know if I need a real estate agent?
Buying a house seems very easy until you actually get into the process. Consider the number of laws you have to follow and the information you need to consume. You may need expert help to collect your paperwork and pick on a loan you want to take. If you're about to refinance, make sure to talk to an agent before you make the final decision.
An experienced real estate agent will help you find houses you can afford and that fit your criteria. They will also advise you legally and help negotiate the price. If you feel like you'll need help completing the tasks, then you certainly need a real estate agent.
What is the closing cost of my mortgage?
After You have shopped around for homes, and had your offer accepted, your loan officer will start working on financing the home for you. There are many steps and phases to this process and it will involve cost, generally referred to as closing costs. Industry average is generally quoted at 2 - 3 percent of the purchase price of the home. Our closing costs have consistently being around 2%, often lower.